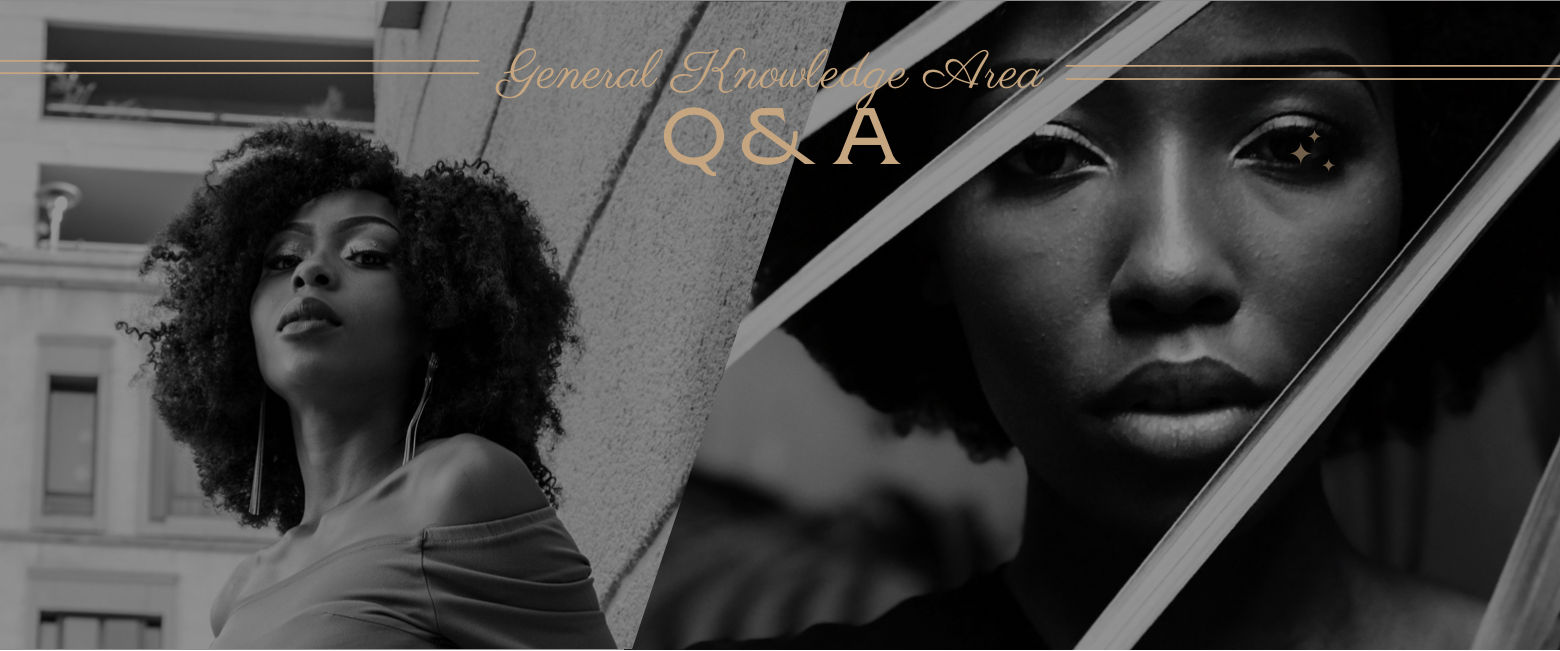 You've Brought us Your Questions & Now We've Got Answers!
Get started with Shipment Questions or click on one of the following Subjects to Satisfy Your Curiosity.
Get started with Shipment Questions or click on one of the following Subjects to Satisfy Your Curiosity.
---
Tracking & Shipment Questions
Q: If i Ordered today, When should i expect shipping confirmation and delivery?
Stock orders, such as bundles or closures with no customization, will have a standard processing time of 2 business days. Orders with special add- on services such as lace bleaching, weft sealing and wig making will have an extended processing time in accordance to the information noted in that particular service description.
Refer to the table below to determine when you'll receive a tracking number.
Stock orders placed on this day
Orders Placed on this day
Eastern Pacific Time
To provide global service, we offer 3 shipping options through both UPS and USPS. These options allow for you to choose when you'll get your package based on your needs. UPS gives you the options of having your package delivered overnight, in 2 business days or within 5 business days. While USPS priority mail offers delivery within 1-3 business days (we seldom see packages still in transit after the 2nd day).
Q: How do I update an incorrect shipping address?
It is the responsibility of the buyer to make sure that she or he has entered the shipping address correctly at the time of checkout. We do our best to speed up processing and shipping times, hence there is a very small time gap to cancel/change your order or to change the address of your order. If you decide to change your shipping address, please contact us immediately through live chat or email. Please note, orders with a variance in Shipping and billing information will require a signature upon delivery. We cannot be held accountable for packages where tracking information states the package has been delivered to the address submitted with your order. The only thing we can do is wait to see if the package gets returned back to us. If it does get returned back to our warehouse, we can then ship it to the correct address or provide you with a refund minus the cost to originally ship the package.
Q: I need my package in a hurry, Can I come by and pick it up?
At this time, we are strictly an online store operating from a private location. As a safety precaution, we do not offer a pick up option and are uncertain of whether we will implement this service any time soon. However, we do have several shipping options to ensure you get your package in time. Return shoppers may be eligible for expedited processing.
Q: My tracking information says my package was delivered, but i haven't received it. What should I do?
Check your mailbox, the surrounding areas and anywhere that would be considered a safe drop area.

In most cases, the carrier will specify on your tracking link where the package was delivered to (a mailbox, the front door, etc). We still recommend, however, to check all possible areas as to where it could have been delivered to in order to rule out and locate your package. Please check your mailbox and any *safe drop areas around the parameters of your home.





*Safe drop refers to any locations around your household premises where your package may be deemed better hidden from others to see by the individual delivering your package. Please check around your porch, near your garage, under or behind a stationed vehicle, and at the backyard entrance to see if the package is there.

Check with your household members and residential neighbors

Most carriers will simply deliver it to the address provided on the shipping label, and not necessarily to the recipient listed. Therefore, please check with your household members as it is very possible someone else may have accepted the package on your behalf.

For apartment buildings- Check with security or management.

In many instances for apartment buildings, the package will be delivered not to your door, but to a cluster of mailboxes. If your package is too big to fit inside a mailbox, it is very possible for security or management to have intercepted the package. In the event, they have not received your package, you can also inquire about camera coverage around the mailboxes.
Contact your local USPS locations to check if it was delivered there or perhaps turned in by a good Samaritan. If you have done all of the above and still do not have your package, you can file a claim with USPS at

https://onlineclaims.usps.com/OICWeb/

or contact us at info@embellishedkinkshairco.com so that we may do so on your behalf. When emailing us be sure to include your order number.
Embellished Kinks is not responsible for any delays in deliveries, lost or stolen packages once tracking has been updated to accepted by USPS. If you have tracked your package and there is a discrepancy in delivery information or it has been lost in transit please contact USPS directly, they most likely have more info than us and can resolve by locating the package. If problems continue please contact us so we can expedite the process of possibly recovering your order. We will contact USPS to initiate a trace for your package and have them start an investigation. This investigation can take up to 8-10 business days. If it is determined that your shipment has been lost in transit a replacement may be sent pending USPS investigation of the situation. We cannot send a replacement package or issue a refund once delivery has been confirmed.
Q: What is steam Processing?
Most companies don't clearly distinguish their steam processed collections from their Raw hair but both are good options. Steam processing refers to the use of hot water vapor to create a consistent curl pattern in the hair; no chemicals are used. When done properly, the result should be hair that has the same beautiful curl pattern throughout a bundle. Slight variations may be expected, as this process is done by man.
Great steam processed hair should still have the cuticle intact, have all the strands aligned in the same direction and have great durable wefting. Our steam processed hair won't shed or tangle and it can be colored – all reasons why women buy raw hair! The major difference between steam processed and raw hair lies in its straightening and reversion abilities as well as how it'll react to different levels of humidity..
If the hair is not naturally of a certain texture or curl, you may notice the curl pattern loosening and not reverting back to its original form after straightening. So, if you've spent a few hundred dollars on hair and after running a flat iron through it a few times you notice the curls don't pop right back, it's because the hair was more than likely steam treated for texture..
Q: How many bundles do I need for my install?
We recommend a minimum of 2-3 bundles for a full head sew-in. But ultimately, the final decision will depend on four things: the size of your head, the texture of hair you want to rock, the length and the look you're trying to achieve.
If you are still unsure, consult your stylist or a professional for an expert's opinion. Feel free to also contact us via our social media platforms of email at info@embesllishedkinkshairco.com.
Q: What type of lace does Embellished Kinks use?
Embellished Kinks only uses Swiss lace material for our products as opposed to French Lace. While french lace is durable, it is also thicker and more apparent on the skin. Swiss lace is a little more fragile. However, its thin material blends better with the skin for a less visible install
If you are new to lace closures & lace frontals, we recommend you go with French lace as the delicate material of Swiss takes experience and skill to avoid Rips or tares.
You will experience minimal shedding, just like with your own hair. Sealing the wefts before installation will help to reduce shedding. We highly recommend that you use a generous amount of Kinky Curly Knot today as a detangler (or a product comparable) and finger comb the extensions. If you choose to comb the hair, use a wide tooth comb and start from the bottom of the hair and work your way up.
Q: How long will my hair extensions last?
With proper care, your hair extensions should last more than 18-24 months. Just like your natural hair, activities like bleaching and excessive heat can cause damage and decrease the lifespan of your hair extensions.
If this is your first experience with virgin hair extensions or hair extensions of such textures, please take a moment to read our detailed hair care guide for extensions.
Q: How come i don't see the option to choose what color i want?
All our extensions are Virgin in color. This means they are not color treated in any way to refrain from using chemicals. All extensions will come in their natural hair color which can vary from an off black to a medium brown, similar to a #2.
These extensions are capable of being dyed to the color of your choice. However, we currently do not offer services to do so for you.
Q: Can I color my hair extensions?
While our hair is 100% virgin human hair and can be colored or lightened, we do not recommend you do so yourself, instead we advise you to seek professional help.
Just like with your natural hair, any hair that has undergone chemical altering will require more maintenance to keep it looking fresh. A dramatic change in color can have a negative impact on both the longevity and texture of the hair. Seeking a professional will help ensure that you are getting the best results in the color deposit and life span of the hair.
While our hair is 100% virgin human hair and can be colored or lightened, we do not recommend you do so yourself, instead we advise you to seek professional help.
Just like with your natural hair, any hair that has undergone chemical altering will require more maintenance to keep it looking fresh. A dramatic change in color can have a negative impact on both the longevity and texture of the hair. Seeking a professional will help ensure that you are getting the best results in the color deposit and life span of the hair.
Q: Can I use heat to style my extensions?
Yes; however, it is not recommended for curly hair. Although our hair is very versatile and can be styled in countless ways, excessive manipulation or use of heat may loosen or cause damage to the curly hair texture.
Remember, heat damage is real and since all our extensions are 100% virgin human hair, they are not excluded from this risk.
Q: How do i know which curly texture to purchase?
Each product listed goes into greater detail of the hair texture. However, if you are still unsure of which texture would be the best blend and fit for you, you can purchase our samples to get a better feel of the different textures.
Shop Pay Installment Questions
Q: What are the payment options for Installment plans with Shop Pay ?

When checking out with Shop Pay, you now have the option to pay now or later. Paying in installments on Shop Pay allows you to split your purchase amount into 4 equal, biweekly installment payments—with 0% interest, no hidden or late fees, and no impact on your credit score.
Q: Will using this feature impact my credit score?
No, if you choose to pay in installments through Shop Pay, there will be no impact to your credit score. For Shop Pay installments, Affirm doesn't conduct a hard credit pull or report to the credit bureaus. However, late payments and non-payments may affect your ability to pay with Shop Pay installments in the future.
Q: Can i apply while my credit report is frozen or locked?
If there's a freeze or lock on your credit report when you apply for Shop Pay installments, you'll have to temporarily lift it before we can process your application.
 
Affirm works with the credit report agencies listed below. Make sure to lift your freeze or lock at all agencies where you have one in place. You can do this online or via phone using the contact information below.
 
Credit reporting agencies
Experian: (888) 397-3742
 
https://www.experian.com/freeze/center.html
 
TransUnion: (888) 909-8872
 
https://www.transunion.com/credit-freeze

When you lift your freeze or lock online or by phone, it usually takes effect quickly, sometimes within minutes. However, to be on the safe side, you should wait about an hour before you come back to Affirm and continue your application. When you lift your freeze or lock by mail, it can take up to a few days for the lift to take effect.

Note: Both agencies will provide the option to temporarily or permanently lift the freeze or lock. If you opt to lift it temporarily, you may need to go through this process again the next time you apply for Shop Pay installments.
Q: What happens if I make a return on a purchase made with Shop Pay installments?
If we process a refund, the refunded amount will be returned to your original payment method within 3-10 business days, and your balance will be updated.
If your refund is less than your total purchase balance, it might not lower your next payment. Instead, you can expect fewer payments, a smaller final payment, or both.
If your refund is more than your purchase balance, the difference will be returned to your original payment method within 3-10 business days.
Q: My question isn't answered here, Where can I find more Information?
For questions about installment payments on Shop Pay, visit shop.affirm.com/help.
For questions about Shop Pay or the Shop App, visit shop.app/help/shop-pay.
Q: What is weft sealing and what are the differences between standard and advance?

Weft sealing is just one of many options to help extend the longevity of your hair extensions. This method of protection coats the area of the extension where all strands of hair meets to prevent excessive shedding. While all hair sheds, sealing your wefts can help cut down on this or even eliminate it.
With both options the tracks are coated multiple times, per side, with a penetrative sealant. This sealant has a light order that fades away when dry and seeks into the wefts to secures them from the inside. Even though it is washable, it is only good for so many washes before needing to be reapplied. This is the only sealant used for Standard protection. With our advance protection service, there is an extra added layer of protection which sits on top of the weft to allow for protection from both within and outside the wefts. This sealant is non-toxic and low odor. Therefore, it will not be a bother for someone with skin of scent sensitivity. The gel like texture allows for a strong seal while allowing some flexibility to the wefts and best of all it is completely waterproof which mean no matter how many times you wash your extensions, you will never have to reseal your wefts.